Human Skull Seen in Flames
Responsible Author: Paul Thibeault, Photojournalist USPA News | Fitchburg, 03/19/2019, 02:36 Time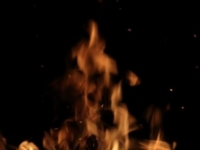 USPA NEWS -
I took this picture on March 17, 2019 shortly before 8:30 PM. I decided to share it with my readers because I think it has great entertainment value.
I was on my property burning some wood last night, and decided to take some pictures. When I transferred the pictures to my computer I noticed that the very first picture that I took of the fire appeared to (very closely) resemble a disembodied human skull, a fact that seemed even more strange when I looked thru the rest of the photos I took of the same fire and didn't notice anything unusual.
I am not offering this article as proof of an afterlife, nor am I definitively claiming it as proof of ghosts or demons. However in my opinion this photograph in my opinion was too interesting to ignore, and so I decided to share it with you.
| | |
| --- | --- |
| | Daren Frankish |
| | RAHMA-SOPHIA RACHDI |
| | Ruby BIRD |
| | Yasmina BEDDOU |
| | Roberto Magni |